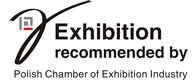 Fair Partner
and Polish Fashion Gala
Partner


19.12.2018
May this Christmas bring back the best memories, spent together with the closest family, filled with warmth and the smell of gingerbread. May all your dreams come true. Wishing you all the best for 2019.
03.09.2018
Another edition of the Poznan Fashion Fair − Poland's largest contracting trade fair for the fashion industry − is behind us. Held on the last days of vacation, the fair was marked by trade agreements, presentation of trends for the coming seasons and training.
22.08.2018
FERIA is a Polish smart casual brand that breaks patterns in thinking about clothing. Created for women who want to feel themselves - comfortable and professionally at the same time.
21.08.2018
40 Manufacturers from China will show on Targi Mody Poznań.
More news
---

Next edition of Poznań Fashion Fair:
/ Poznań International Fair: 05-06.03.2019