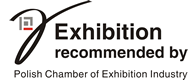 12.07.2017
Fill in a short form and we will send you a free invitation entitling you to participate in the event.
12.07.2017
The companies are looking for representatives, agents, distributors and importers.
12.07.2017
The Polish Fashion project awards the brands manufacturing in Poland, distinguished by design and quality.
12.07.2017
The Poznań Fashion Fair creation by Michał Siciński will compete with foreign contestants!
More news
---

Next edition of Poznań Fashion Fair:
5-7.09.2017 / Poznań International Fair